Afghan Soldier Seeking Asylum In US Released From Federal Custody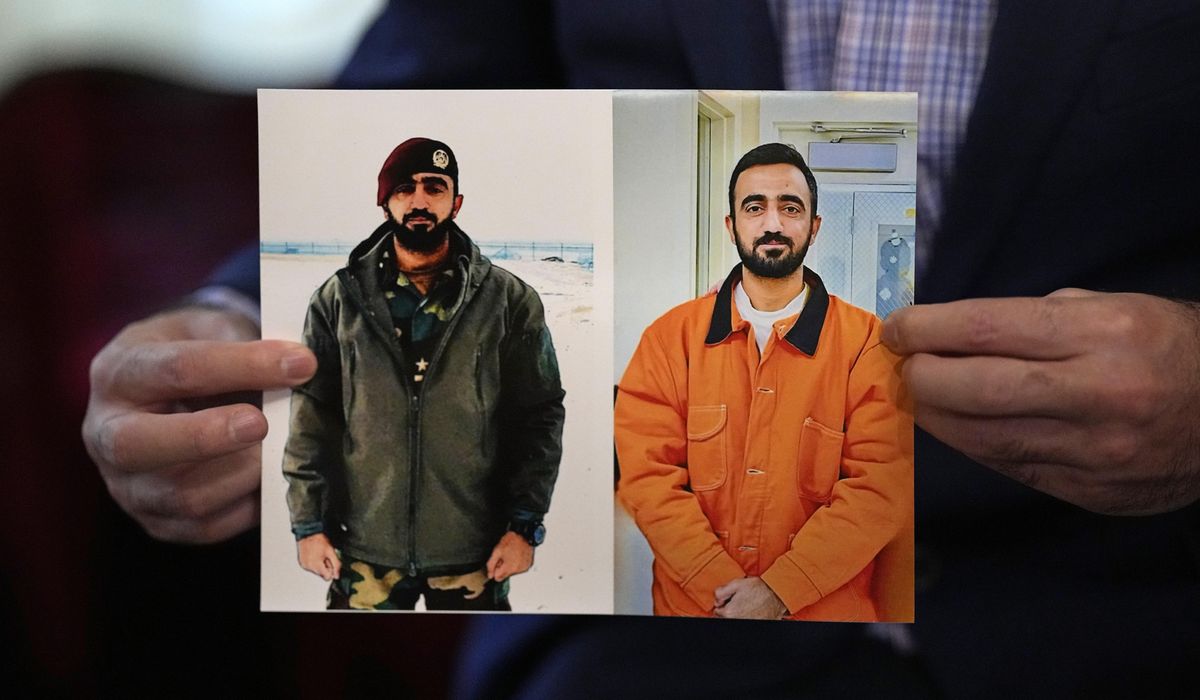 HOUSTON (AP) — An Afghan soldier seeking asylum in the United States who was detained for months after being arrested while trying to cross the border into Mexico has been released from immigration detention and reunited with his brother, his attorney said Wednesday. .
Abdul Wasi Safi's release from custody in Eden, Texas, came after a judge dropped an immigration charge against him at the request of federal prosecutors.
Wasi Safi fled Afghanistan following the withdrawal of US forces in August 2021, fearing reprisals from the Taliban because he had provided US forces with information on terrorists while working as an intelligence officer for the Afghan National Security Forces. In the summer of 2022, he began a perilous journey from Brazil to the US-Mexico border, where he was arrested in September near Eagle Pass, Texas. He had hoped to eventually meet his brother, who lives in Houston.
On Monday, a federal judge in Del Rio, Texas, dismissed the federal immigration charge after prosecutors filed a motion asking him to do so "in the interests of justice."
Zachary Fertitta, one of his criminal defense attorneys, said Wednesday that Wasi Safi is receiving medical care at an undisclosed location but planned to speak at a news conference Friday in Houston.
Fertitta said Wasi Safi and his brother "are delighted to meet."
Jennifer Cervantes, another of Wasi Safi's immigration attorneys, said Wednesday that she expected him to be transferred from US Customs and Border Protection custody to US Immigration and Customs Enforcement. She said that ICE would likely interview him, but has no reason to keep him in custody, especially since the FBI has already talked to him and found no problem.
"Certainly not a danger to the United States. He has rendered a great service to the United States," Cervantes said.
US Rep. Sheila Jackson Lee, D-Houston, is one of a bipartisan group of lawmakers that has been working to free Wasi Safi. She said in a statement Tuesday night that she expects him to arrive in his hometown on Friday.
The Department of Homeland Security, which oversees Customs and Border Protection and ICE, did not respond to an email seeking comment Wednesday.
Sami-ullah Safi, Wasi Safi's brother, was employed by the US military for several years as a translator. Sami Safi said he is pleased the criminal case was dismissed, but he remains frustrated with how his brother has been treated in light of his family's support for the United States in Afghanistan.
"If we categorize my brother's service, how many lives has he saved through his service and how many lives have I saved through my service as a combat translator?" Sammy Safi said.
Wasi Safi's case was first reported by The Texas Tribune.
On his journey from Brazil to the US, Wasi Safi suffered serious injuries from the beatings, including damaged front teeth and hearing loss in his right ear.
"We are now working on his health condition, which has become serious after months of neglect," Zachary Fertitta, one of his criminal defense attorneys, said in an email Wednesday.
The lawyers, lawmakers and military organizations that have been working to free Wasi Safi say his case highlights how the chaotic US military withdrawal continues to hurt Afghan citizens who helped the US but were left behind.
Nearly 76,000 Afghans who have worked with US soldiers since 2001 as translators, interpreters and partners came to the US on military aircraft after the US withdrawal from Afghanistan. But his immigration status remains unclear after Congress failed to pass a proposed law, the Afghan Adjustment Act, that would have solidified his legal residency status.
Cervantes said Wasi Safi's case is not unique and that other Afghans seeking asylum at the US-Mexico border have also faced difficulties getting their cases properly reviewed. She said she hopes her work "shines some light on that and (helps) these guys get what I think is right, what I think is fair for them."
Copyright © 2023 The Washington Times, LLC.
(function (d, s, id) {
var js, fjs = d.getElementsByTagName(s)[0];
if (d.getElementById(id)) return;
js = d.createElement(s);
js.id = id;
js.src = "//connect.facebook.net/en_US/sdk.js#xfbml=1&version=v2.5";
fjs.parentNode.insertBefore(js, fjs);
}(document, 'script', 'facebook-jssdk'));