California Judge Issues Preliminary Injunction Blocking COVID 'Disinformation' Law: Reports
A California judge has issued a preliminary injunction against a state law that empowers the California Medical Board to discipline doctors who support views on COVID-19 that are not in line with "consensus," according to reports.
The law, known as Assembly Bill 2098, took effect on January 1, 2023. Under the law, the Medical Board of California and the Osteopathic Medical Board of California could discipline doctors who "disseminate" information about COVID that is not in line with the "contemporary scientific consensus".
But in November, a group of five California doctors filed a lawsuit against the administration of California Gov. Gavin Newsom, alleging that the law violates their First Amendment rights and constitutional right to due process.
NEWSOM SUES OVER COVID 'DISINFORMATION' LAW DOCTORS SAY TRAMPS ON FIRST AMENDMENT RIGHTS
Aaron Kheriaty, MD, is listed as one of the doctors in the lawsuit, posting on Twitter Wednesday that a judge granted his request for a preliminary injunction against AB 2098.
The preliminary injunction temporarily halts implementation of the law while the case is tried in court.
"The ruling bodes well for our case," Kheriaty tweeted. "This indicates that our arguments that this law is unconstitutional have strong pretrial facial plausibility. Not to get ahead of ourselves, of course, or to try to predict the final outcome of the case, but this is a very positive development.
"One more detail here," he added. "The preliminary injunction ruling also establishes that the five physicians have standing to challenge the law. This is important because a similar challenge filed against AB2098 was dismissed based on a finding that the plaintiffs lacked standing."
Doctors are represented by the New Civil Liberties Alliance, or NCLA, which is a nonpartisan civil rights firm.
CALIFORNIA'S NEWSOM SAYS DEMS 'DESTROY' THEMSELVES IN MESSAGES: 'WE'RE GONNA HAVE TO DO BETTER'
In November, Jenin Younes, a lawyer for NCLA, said California's new "disinformation" law is the result of the growing censorship mentality that has taken hold of many lawmakers in the United States.
"Having this shocking bill passed by the state legislature and signed into law by Governor Newsom shows that far too many Americans don't understand the First Amendment," Younes said.
The doctors said the law violates their First Amendment rights because it prevents them from communicating with their patients during treatment.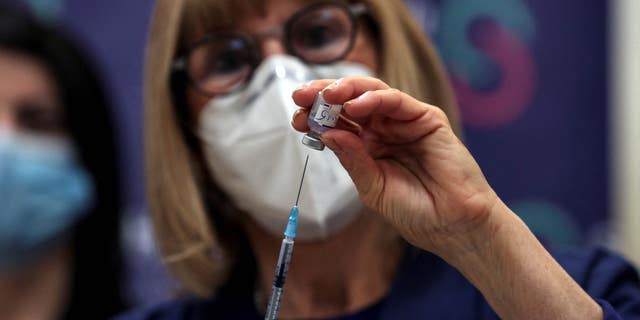 "In safeguarding the rights of Americans to free speech and expression, the First Amendment applies not only to the expression of majority opinions, but also to minority opinions," the complaint states.
SEN. JOHNSON DEMANDS A RESPONSE TO YOUTUBE FOR 'REPEATED CENSORSHIP' OVER COVID, CONSERVATIVE VIEWS
The doctors also argue that the "contemporary scientific consensus" is "undefined in law and undefinable as a matter of logic."
One plaintiff, Dr. Tracy Hoeg, wrote in the lawsuit that she is "afraid to say something to my patients that I know is consistent with the current scientific literature but cannot yet be accepted by the Medical Board of California." Physicians should "feel free to speak candidly with their patients if they want to earn and keep their trust," she said.
CLICK HERE TO GET THE FOX NEWS APP
Hoeg has been the first author, or lead author, of nine epidemiological analyses, six of which have been published in peer-reviewed journals on topics such as the effectiveness of mask mandates and risk-benefit analysis of mRNA vaccines. of COVID-19 in children. She said the California law "puts physicians who are merely trying to give appropriate, individualized recommendations in a difficult position, particularly considering that they may not know what the California Medical Board 'consensus' is at this time." or whether it also evolves as our understanding evolves."
Brianna Herlihy contributed to this report.