EXCLUSIVE: Border Patrol chief fumed over Biden admin's handling of caning controversy, emails show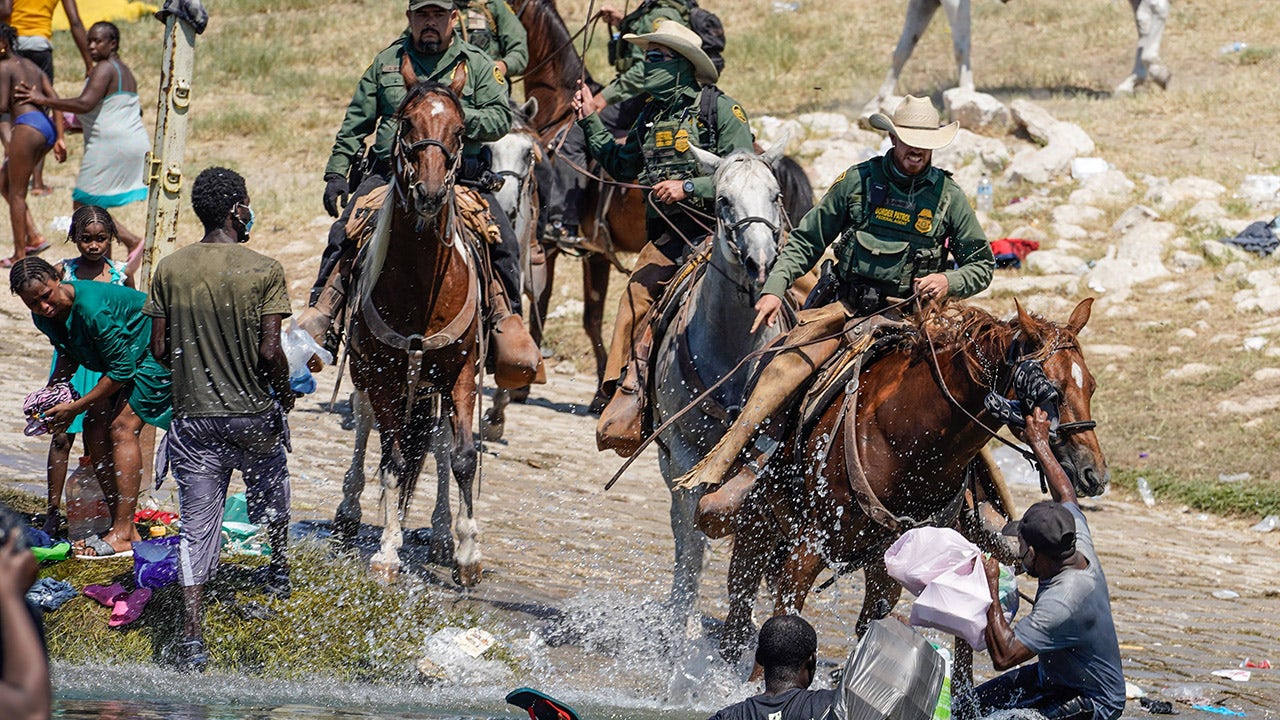 EXCLUSIVE: Border Patrol chief has rejected the Biden administration's handling of a 2021 fake "whipping" controversy targeting his agents, emails from days after the incident seen by Fox News show, with the chief berating officials for not highlighting attacks by migrants on agents, as well as the lives that their agents were saving.
Emails obtained by the Heritage Foundation Oversight Project via FOIA and provided to Fox News shed new light on the September 2021 Haitian migrant crisis in Del Rio and a related incident in which Border Patrol agents on horseback they found migrants crossing the river. Photos of the incident were misinterpreted by commentators, reporters and some Democrats as showing officers whipping migrants. In fact, the officers used reins to control their horses, did not carry whips, and did not whip anyone.
But the controversy went viral on social media and made national news, prompting a confused response from the Biden administration. The emails show how, the day after the incident, Customs and Border Protection (CBP) officials were immediately pressured to respond.
WHILE BIDEN VISITS THE BORDER, STILL NO APOLOGIES FOR FALSE CLAIMS THAT BORDER PATROL AGENTS WHICH MIGRANTS
"Hello everyone. We need to get more [sic] details on this as soon as possible," said a September 20, 2021 email from a redacted official. "I just got a call from the White House [Office of Inter-Governmental Affairs]/Politics: The footage is getting everywhere."
"DHS wants to be able to update talking points for media inquiries to say an investigation is underway. Please let me know if and when I can confirm," another says minutes later.
Eventually, a statement was released saying DHS said CBP's Office of Professional Responsibility was looking into the matter, calling the video "extremely concerning" with the promise that an investigation "will define appropriate disciplinary actions for drink". "
The email chain also includes redacted talking points for officials to use. But, in response to the back and forth, Border Patrol Chief Raúl Ortiz expressed frustration at not highlighting the good work his agents were doing or the violence and abuse they were facing at the hands of migrants.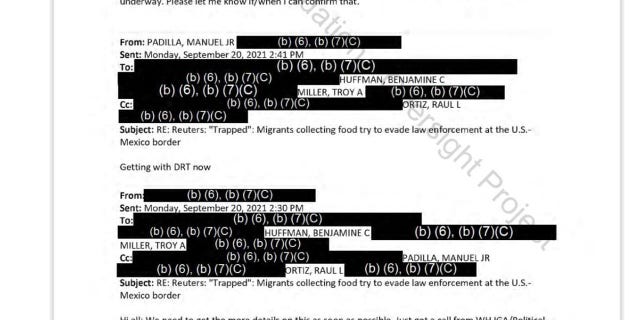 "This horse business is terribly negative, but great efforts are being made and we are not highlighting any of them," he said in an angry email. "Every day we are providing life-saving efforts to migrants under the bridge."
"Our agents are being attacked and we don't say a word," Ortiz said.
The chief then also pointed to incidents in which Haitian immigrants in the removal transport had hijacked buses and tried to escape, something he said the agency had not commented on, as well as the long hours they worked, often in intense heat and under difficult conditions.
"The bus contractors and drivers are dealing with Haitians who are escaping or trying to hit the drivers and we are keeping quiet. The agents and professional staff work 14 hours a day in difficult conditions, nothing is said," he said. "We have to change the narrative or these stories will just be stories."
Ortiz's words do not seem to have been heard. While Mayorkas had given an initial defense of the officers along with Ortiz that day, pointing out the distinction between the use of reins and any use of whips, he later retracted it, saying it was before he saw the footage.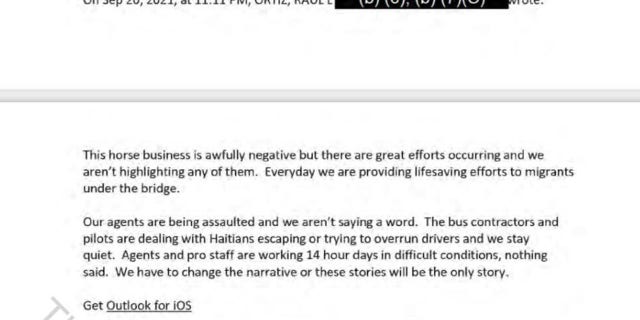 In the emails, Mayorkas is told in an email from an anonymous official that DHS "will have to clarify what the reins look like instead of a horse whip and clarify the use of force."
Towards the end of the week, Mayorkas was deferring to the OPR investigation, while expressing his horror at the images.
"Our nation saw horrific images that do not reflect who we are. We know that those images painfully evoked the worst elements of our nation's ongoing battle against systemic racism," Mayorkas said at a news conference.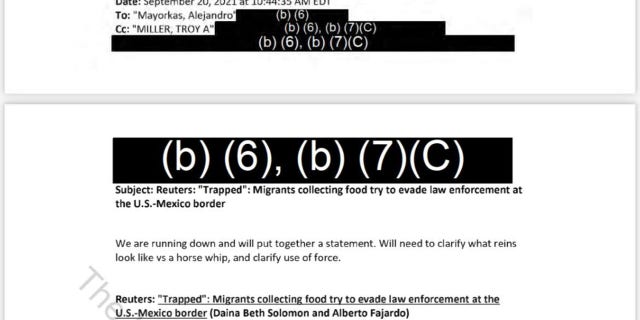 Meanwhile, President Biden came out to hit the agents directly, angrily (and falsely) accusing them of assaulting migrants, and promising there would be consequences.
"To see people treated the way they were, horses barely running, people tied up, is outrageous." Biden told reporters, making a whipping motion with his hand. "I promise you those people will pay. There will be an ongoing investigation now and there will be consequences. There will be consequences."
In emails obtained by Fox, an official points to Biden's comments to Ortiz, who responds: "The tremendous work that has been accomplished in the last 10 days is what I will choose to focus on."
Acting CBP Commissioner Troy Miller responds simply: "Okay."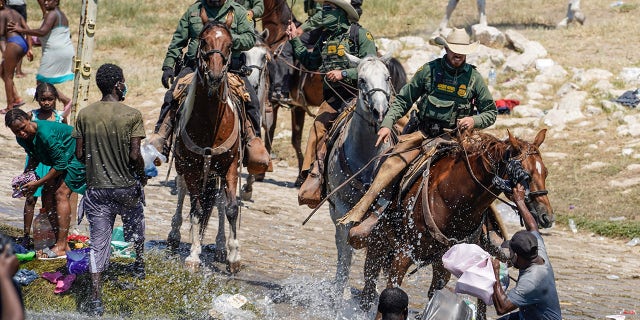 Months later, in March 2022, an official appeared to rebuke Ortiz for the comments he made. Yoan interview on local radio in which Ortiz said he expected the investigation to be concluded "relatively quickly."
"And we're going to find out, really, what was the truth behind that incident, and I'm sure almost all of those [agents] will be exonerated. And what we'll find is that he was probably, you know, mischaracterized," he said.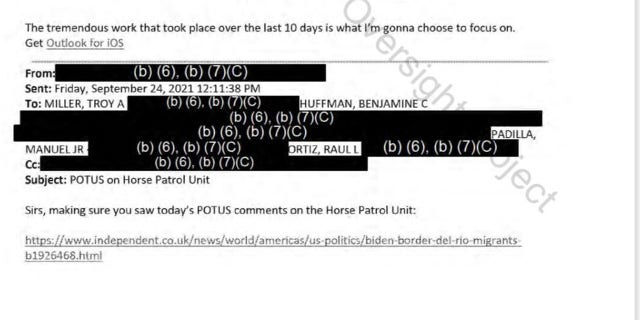 CBP FINDS 'NO EVIDENCE' THAT BORDER PATROL AGENTS WHIPPED HAITIAN MIGRANTS BUT STILL SEEKS TO DISCIPLINE THEM
The email flags comments and then reminds recipients of "our approved message on this" which emphasizes sharing the results of the investigation when it is complete "in keeping with the need to protect the integrity of the investigation and the privacy of individuals." .
The subsequent investigation, which did not reveal its findings until the summer of 2022, found "no evidence" that agents beat the migrants and found they were not carrying whips, but still charged them with minor infractions. An agent was accused of using "demeaning and offensive" language against migrants in relation to national origin and gender, and of having maneuvered a horse around a child in an "unsafe manner", while the officers were said to have agents had used "unnecessary use of force" to force the migrants back.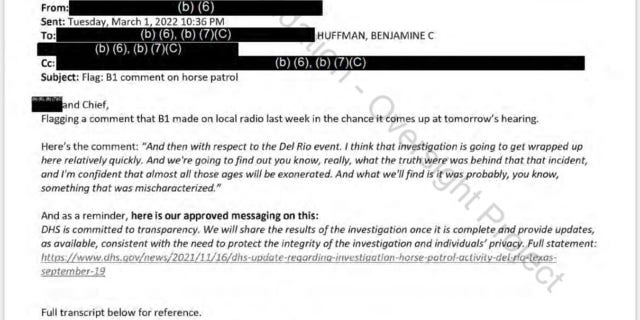 In a statement, former acting CBP Commissioner Mark Morgan and former acting Immigration and Customs Enforcement (ICE) Director Thomas Homan said the emails "paint a picture of the continued incompetence and politicization of border security by part of the Biden administration."
"They offer further evidence that Secretary Mayorkas realized the 'whipping' narrative was false, days before he continued to imply otherwise from the White House podium," they say. "They show the White House pressing CBP for answers in what quickly became a politicized investigation."
They also claimed that DHS leaders "don't care" how the administration's policies affect Border Patrol morale and well-being.
"Mayorkas, in particular, as one of the main architects and consistent advocates of this radical agenda, bears a unique responsibility for the destruction of morale across the force. Even their own agents have lost confidence in their 'leadership.'"
The former officials also criticized CBP leadership, including Ortiz, arguing that "instead of publicly defending agents by telling the truth after realizing their internal attempts to do so had failed, they acceded to the political officials and bureaucrats who pushed ruthlessly false narrative". ."
CLICK HERE TO GET THE FOX NEWS APP
Brandon Judd, head of the National Border Patrol Council, accused the administration of vilifying law enforcement to appease his base.
"President Biden, Vice President Harris and Secretary Mayorkas knew they could use the court of public opinion to make their grassroots supporters happy by prematurely convicting overworked Horse Patrol officers overwhelmed with their political rhetoric." , said.
"They knew that the evidence would eventually come to light to show that the agents not only did nothing wrong, but that they actually carried out their duties lawfully and in accordance with the orders of a Department of the Executive Branch that they control. Obviously, they didn't care," he said. They knew that by the time all the evidence came out, the damage would be done and they would score the political points they desperately wanted."
//platform.twitter.com/widgets.js