In Rare Rebuke, Elaine Chao Denounces Trump's Anti-Asian Attacks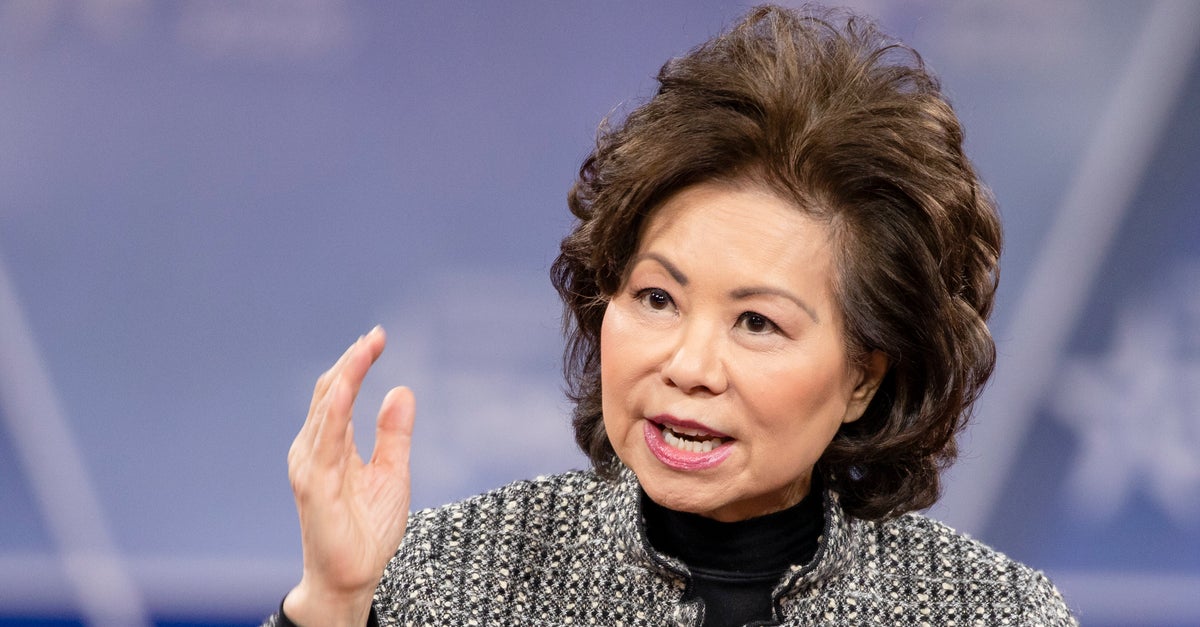 Former US Transportation Secretary Elaine Chao has spoken out against Donald Trump following his repeated racist attacks on her.
"When I was young, some people deliberately misspelled or mispronounced my name. Asian Americans have worked hard to change that experience for the next generation," Chao said in a statement to Politico. "He doesn't seem to understand that, which says a lot more about him than it will say about Asian Americans."
Chao, who served under Trump, has previously been reserved in her criticism of the former president, who has repeatedly mocked Chao and her husband, Senate Minority Leader Mitch McConnell (R-Ky.). Trump has referred to Chao, who was born in Taiwan, as McConnell's "China-loving wife," among other derogatory terms that Chao has asked the media not to use.
Trump used a racist nickname to describe Chao earlier this week when he put together a hodgepodge of conspiracy theories to attack her and her husband.
Does Chao "have anything to do with Joe Biden's classified documents being shipped and stored in Chinatown"? he asked in a Truth Social post. "Her husband of hers, Old Broken Crow, is VERY close to Biden, the Democrats and of course China. He gives everyone what they want!"
The post came amid a series of mass shootings targeting Asian American communities in California, and following a rise in discrimination and violence against Asians linked to the coronavirus pandemic. On Saturday, 11 people were killed in Monterey Park during Lunar New Year celebrations. On Monday, seven more people were shot dead in Half Moon Bay.
In the past, Chao has called Trump's comments racist, but has stopped short of condemning them. "He's trying to get on our nerves. He says all kinds of outrageous things, and I have no intention of responding to any of them," she said in an interview last month. McConnell has also largely refused to comment on Trump's beating of his wife.
!function(f,b,e,v,n,t,s){if(f.fbq)return;n=f.fbq=function(){n.callMethod?
n.callMethod.apply(n,arguments):n.queue.push(arguments)};if(!f._fbq)f._fbq=n;
n.push=n;n.loaded=!0;n.version='2.0′;n.queue=[];t=b.createElement(e);t.async=!0;
t.src=v;s=b.getElementsByTagName(e)[0];
s.parentNode.insertBefore(t,s)}(window,document,'script','https://connect.facebook.net/en_US/fbevents.js');
fbq('init', '1621685564716533');
fbq('track', "PageView");
var _fbPartnerID = null;
if (_fbPartnerID !== null) {
fbq('init', _fbPartnerID + ");
fbq('track', "PageView");
}
(function () {
'use strict';
document.addEventListener('DOMContentLoaded', function () {
document.body.addEventListener('click', function(event) {
fbq('track', "Click");
});
});
})();