Missing Hurricane Ian victim found dead on sunken sailboat months after storm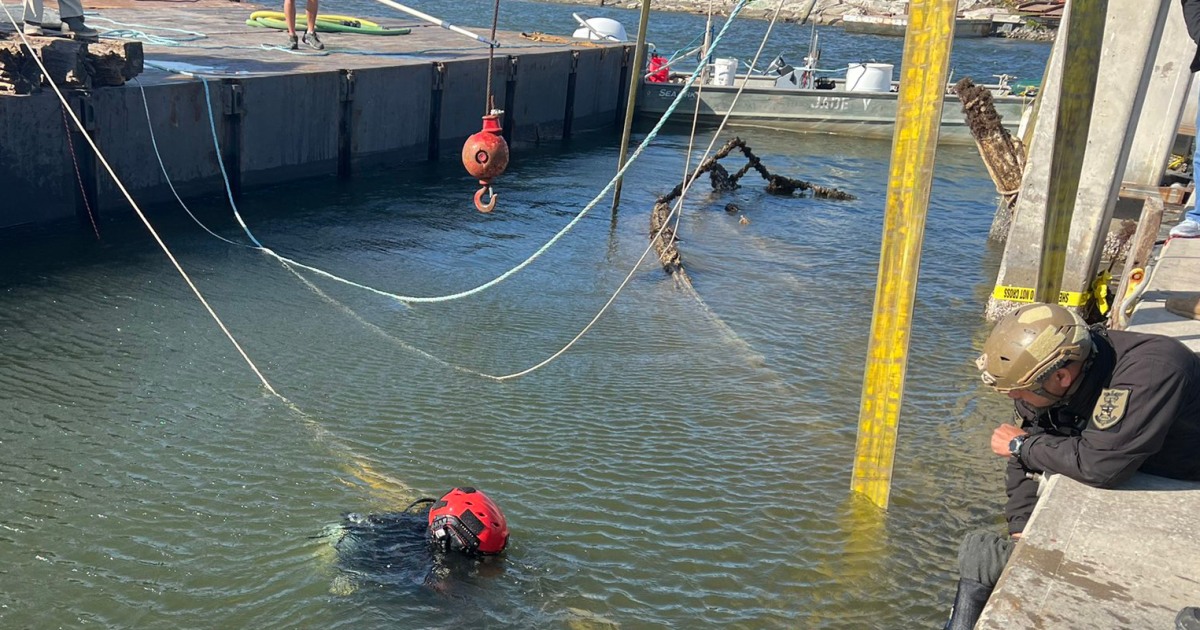 The body of a Florida man who went missing during Hurricane Ian in September has been found in a sunken sailboat months after the storm.
James "Denny" Hurst was the last known person still missing in Lee County after a Category 4 hurricane struck Florida last year, leaving dozens dead and widespread devastation.
The Lee County Sheriff's Office announced Sunday that Hurst's body had been found on a sunken sailboat, "Good Girl," that had been located by divers off Matanzas Pass in Fort Myers Beach.
"Missing person James 'Denny' Hurst was last known to have been on board during Hurricane Ian," Lee County Sheriff Carmine Marceno said in a statement. cheep on Friday, adding that divers were actively working to recover the vessel. "We are speaking with her family during these difficult times."
The sheriff's office had been called to Salty Sam's Marina on Thursday after a worker saw the wreckage of a boat he had never seen before, Fort Myers, Florida-based NBC News affiliate WBBH reported.
During the recovery efforts of the boat, human remains were found in the boat, Marceno Announced.
The sheriff confirmed Sunday that the remains belonged to Hurst.
"Mr. Hurst's family has been notified," the sheriff's office said in a statement. "Our thoughts and prayers are with his family."
Hurst's daughter, Shannon Vaughan, told WBBH that her father had lived on the ship. She said that she was glad to have closure.
"It is finally done. You know? It's finally done," Vaughan told WBBH. "We are glad that you have finally been found and you are home. Love you. Miss you. We all do."
Hurst was known to have mobility issues and used a walker to get around, WBBH reported. They had last seen him on his boat when he was docked at Island Bay Marina on September 28, the day Hurricane Ian made landfall, according to the outlet.
Friday's discovery came just days after the body of an 82-year-old Florida woman who also went missing during Hurricane Ian was recovered Tuesday.
A contracted debris removal company cleaning an area near Fort Myers Beach found the remains of Ilonka Knes "deep in the mangroves," Marceno said at a news conference Thursday.
"These areas are impassable by ship and not visible from the air," he said.
Knes had lived in Fort Myers Beach with her husband, who had previously been found dead, and the area was "completely destroyed" when the Category 4 storm hit Florida.
Relatives had requested a welfare check on Knes on Oct. 7, about a week after the hurricane, but agents were unable to find her. She was declared missing on October 15 after several attempts to locate her.
Her body was found months later .16 miles from her home, Marceno said. The cause of death was determined to be accidental drowning.
At the time, he said Knes's death had brought the total number of confirmed victims in the county to 74, with Hurst being the last victim still missing.
Statewide, NBC News identified more than 140 hurricane-related deaths.
//platform.twitter.com/widgets.js