Republican Rep. Victoria Spartz Opposes McCarthy's Campaign to Kick Democrats Out of Committees | CNN Politics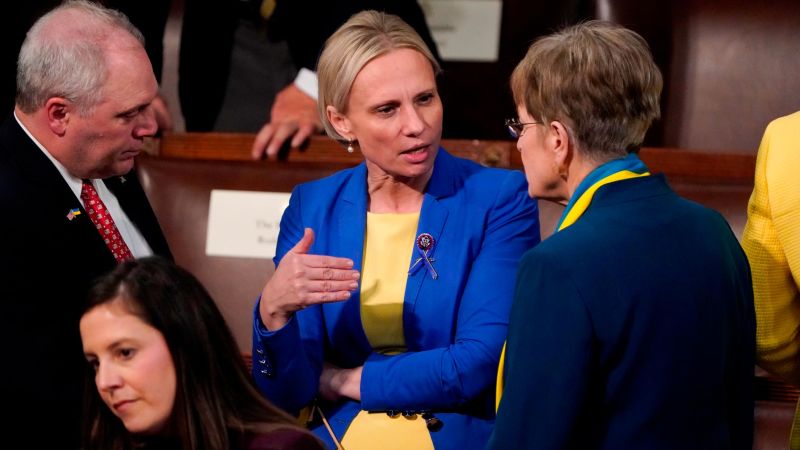 CNN
—

Republican Rep. Victoria Spartz of Indiana announced Tuesday that she opposes Chairman Kevin McCarthy's move to remove three Democrats, Reps. Adam Schiff, Eric Swalwell and Ilhan Omar, from committees.
The new House Republican majority is bracing for a showdown with Democrats on the issue, but pushback within House Republicans has the potential to complicate an effort to oust Omar, a Minnesota Democrat, in particular. Spartz is the second Republican to suggest that he would vote against such a measure. Rep. Nancy Mace of South Carolina told CNN earlier this month that it is unlikely she would support a measure to oust Omar if he made it to the caucus.
In his statement, Spartz referenced how House Democrats removed Reps. Marjorie Taylor Greene of Georgia and Paul Gosar of Arizona from committees when they were in the majority.
"Two wrongs don't make a right. Speaker Pelosi took unprecedented steps in the last Congress to remove Representatives Greene and Gosar from her committees without due process. Speaker McCarthy is taking unprecedented steps in this Congress to deny some appropriations from committees to the minority without due process again," Spartz said.
"Since I spoke against it on the House floor two years ago, I will no longer support this farce," said the congresswoman.
McCarthy has the power to unilaterally bar Schiff and Swalwell from serving on the House Intelligence Committee because it is a select committee. However, removing Omar from the House Foreign Affairs Committee would require a vote of the full House of Representatives. Democrats would oppose it, and it would take only a handful of GOP members to stop McCarthy from advancing, given that Republicans control only a slim majority in the House.
Democratic leaders have officially renominated Schiff and Swalwell to the intelligence committee. And Omar has officially applied for a seat on the foreign affairs committee.
McCarthy has been suggesting for months that he won't seat Schiff and Swalwell, but he hasn't officially made the announcement.
Spartz voted "present" during several rounds of voting as McCarthy tried to secure support to win the presidency at the start of the new Congress. Ultimately though, the congresswoman voted for McCarthy in the final round in which she got the sledgehammer.