Senators restart push for crackdown on foreign lobbying amid concern over China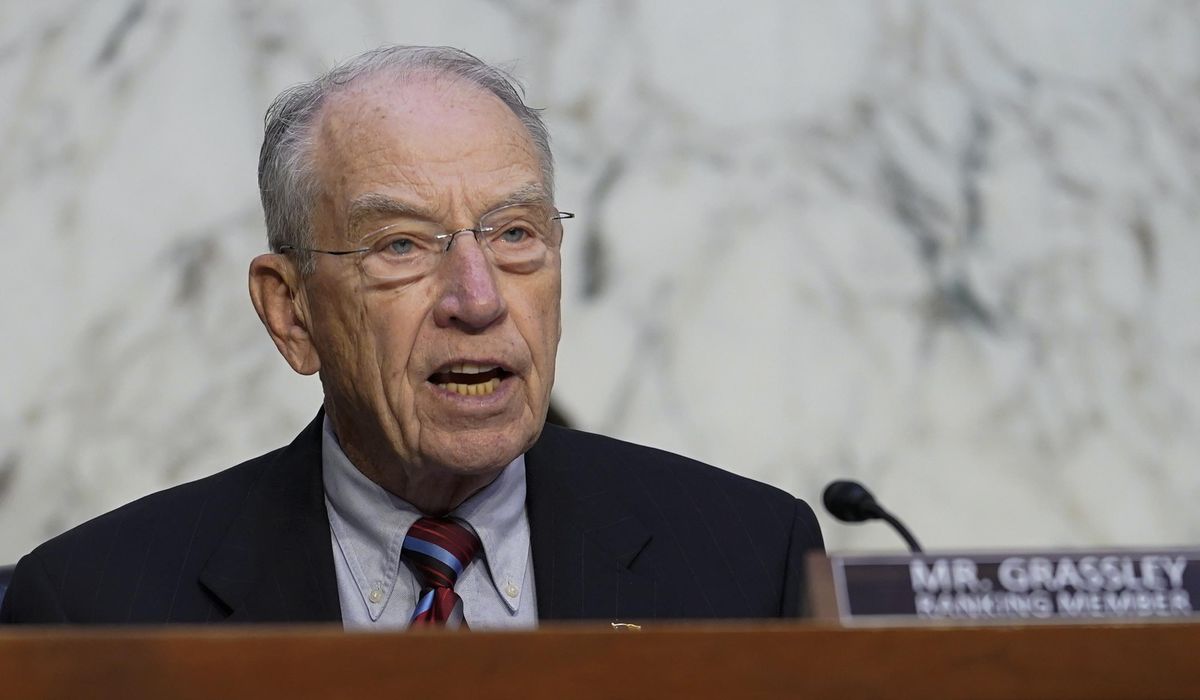 A bipartisan coalition of eight senators is spearheading an effort to crack down on schemes by China, Russia and other adversaries that circumvent lobbying law and influence US politicians.
Foreign ploys often make waves in Washington, from China allegedly seeking to influence a think tank connected to President Biden to a wealthy Russian allegedly engaging a former top FBI official to do the oligarch's bidding.
Efforts to hide foreign lobbying are in the Senate's crosshairs. Sens. Gary Peters, a Michigan Democrat, and Chuck Grassley, an Iowa Republican, are spearheading the bill that they say will close a loophole exploited by China to hide the hidden role of adversaries in lobbying.
Grassley said Tuesday that the Foreign Influence in Lobbying Disclosure Act is necessary because people need to know if a foreign government or political party is trying to alter US policy.
"We have learned that the Chinese Communist Party has used other organizations as proxies to secretly push its agenda in the United States," Grassley said in a statement. "This bill builds on existing foreign agent and lobbying laws to shed light on that behavior so we know exactly where influence campaigns are coming from to ensure policy decisions are in the best interest of the American people."
The Chinese Communist Party has used companies to further its agenda with the US government, making the companies proxies for the communist regime without having to fully disclose activity under the law governing the actions of lobbyists, according to the office. from Mr. Grassley.
---
SEE ALSO: Senator Josh Hawley Prepares Bill to Ban TikTok Nationwide
---
The proposed change to lobbying law would require disclosure of foreign governments or political parties that plan, supervise, or control a lobbying effort, regardless of whether the pullers are footing the entire bill.
The senators' bill passed by unanimous consent in September after advancing that month through the Senate Homeland Security and Government Affairs Committee, led by Mr. Peters.
Others rejoining the Peters and Grassley effort include Sens. John Cornyn, R-Texas; Richard Durbin, Democrat from Illinois; Maggie Hassan, Democrat from New Hampshire; Kyrsten Sinema, an independent from Arizona; and Debbie Stabenow, Democrat from Michigan. Sen. Josh Hawley, a Missouri Republican, also joined the new push to pass the bill in 2023.
"We cannot allow undisclosed foreign influence to override the voices of American voters," Durbin said in a statement. "This bipartisan bill reminds those seeking to influence our government that we legislate about the needs of our constituents, not foreign lobbyists."
(function (d, s, id) {
var js, fjs = d.getElementsByTagName(s)[0];
if (d.getElementById(id)) return;
js = d.createElement(s);
js.id = id;
js.src = "//connect.facebook.net/en_US/sdk.js#xfbml=1&version=v2.5";
fjs.parentNode.insertBefore(js, fjs);
}(document, 'script', 'facebook-jssdk'));