Swedish brothers sentenced to long sentences in Russian espionage case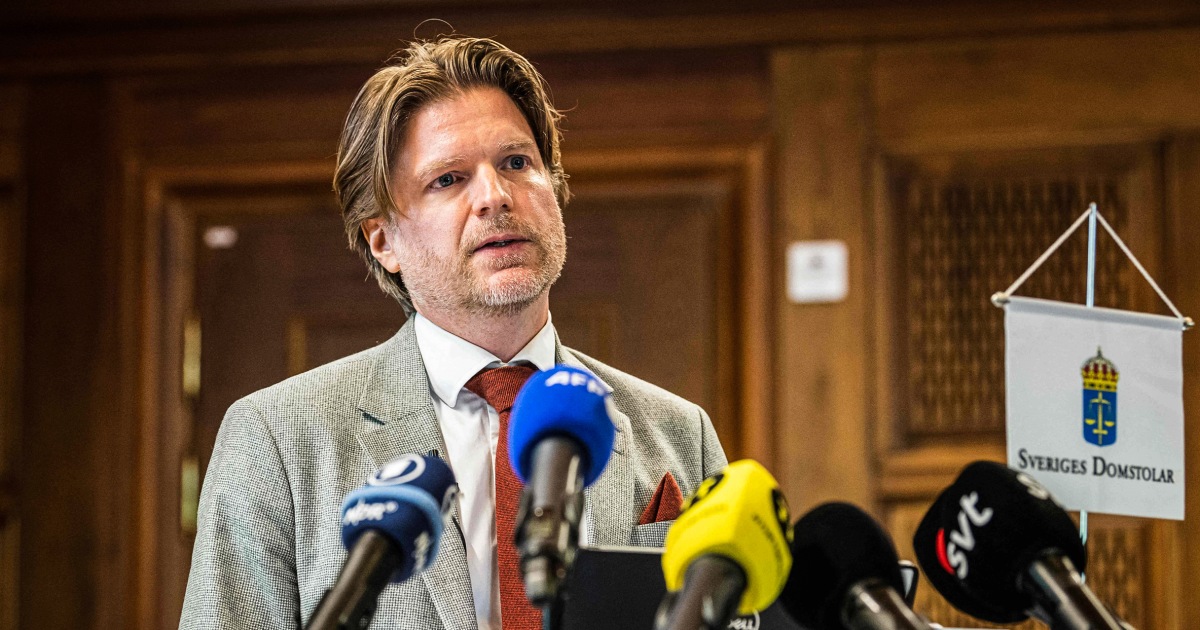 Two Iranian-born Swedish brothers received long prison sentences on Thursday for spying for Russia and its GRU military intelligence service over a decade in the Scandinavian country's biggest spying case in decades.
The older of the two naturalized Swedes, Peyman Kia, was sentenced to life in prison, while his younger brother, Payam Kia, was sentenced to nine years and 10 months.
They appeared before the Stockholm District Court, where they faced felony espionage charges for having worked together to pass information to Russia between September 28, 2011 and September 20, 2021.
A life sentence in Sweden usually means a minimum of 20 to 25 years in prison. Anton Strand, Peyman Kia's lawyer, said his client would appeal the ruling, while the younger brother's lawyer, Björn Sandin, said it had not yet been decided whether to appeal.
"It is beyond a reasonable doubt that the brothers, together and in consultation, without authorization and for the benefit of Russia and the GRU, acquired, sent and disclosed information" to a foreign power with the purpose of harming the security of Sweden, said the court. in his verdict.
The Stockholm District Court said that Peyman Kia "was the driving force behind their joint crime", while Payam Kia's involvement "was of relatively minor importance".
The older brother had a "full understanding of the damaging effects: he acquired, sent and disclosed the information to Russia, which constitutes the main threat to Sweden's security," the court wrote to explain the life sentence.
"After the district court's evaluation of the evidence, it is clear that certain pieces of the puzzle are missing and that it has therefore not been possible to reach full certainty about what happened," said Chief Judge Måns Wigen. But "the picture of what happened is clear enough for the defendants to be held accountable," Wigén said. The reason was money.
Regarding the scope of the crime, Peyman Kia acquired about 90 documents while Payam Kia obtained about 65 documents, Wigén said.
"Disclosure of these documents could particularly harm Sweden's security," he told a news conference.
"They have been convicted of very serious crimes against the Swedish intelligence and security system," said Per Lindqvist, chief prosecutor at the National Security Unit.
Throughout the closed-door trial, both men denied any wrongdoing. Much of the evidence presented and preliminary investigation material is classified.
Between 2014 and 2015, Peyman Kia, 42, worked for Sweden's national intelligence agency, but also for the country's armed forces. Swedish prosecutors allege that the data they gave the Russians came from various authorities within the Swedish intelligence and security service, known by its acronym SAPO.
Peyman Kia has reportedly worked for the armed forces foreign defense intelligence agency, known in Sweden by its acronym MUST, and worked with a top-secret unit within the agency dealing with Swedish spies in the abroad, according to the Swedish media.
Peyman Kia was arrested in September 2021 and his brother in November 2021. Both denied wrongdoing, their defense attorneys told the court.
Payam Kia, 35, helped his brother and "dismantled and smashed a hard drive that was later found in a trash can" when his brother was arrested, according to the charge sheet obtained by The Associated Press.
In 2017, a preliminary investigation was launched after SAPO became suspicious of the former employee and suspected a mole within Sweden's intelligence community.
"It's something that shouldn't happen, but that we as a security service know can happen," SAPO director Charlotte von Essen said. "Russia is one of the countries that pose the greatest threat to Sweden's security. Every day there are attacks and information theft activities to strengthen the interests of the State itself".
The case is believed to be one of the most damaging espionage cases in Swedish history, because the men had compiled a list of all employees within SAPO.
One of Sweden's biggest spy scandals took place during the Cold War when Stig Bergling, a Swedish security officer who worked for both SAPO and the military, sold secrets to the Soviet Union. He was sentenced in 1979 to life in prison on similar charges and later escaped while serving his sentence and returned voluntarily to Sweden in 1994. He died in his native country in January 2015.