The photo of a man posing with a bottle of Coca-Cola in 1981 symbolized a cultural change in China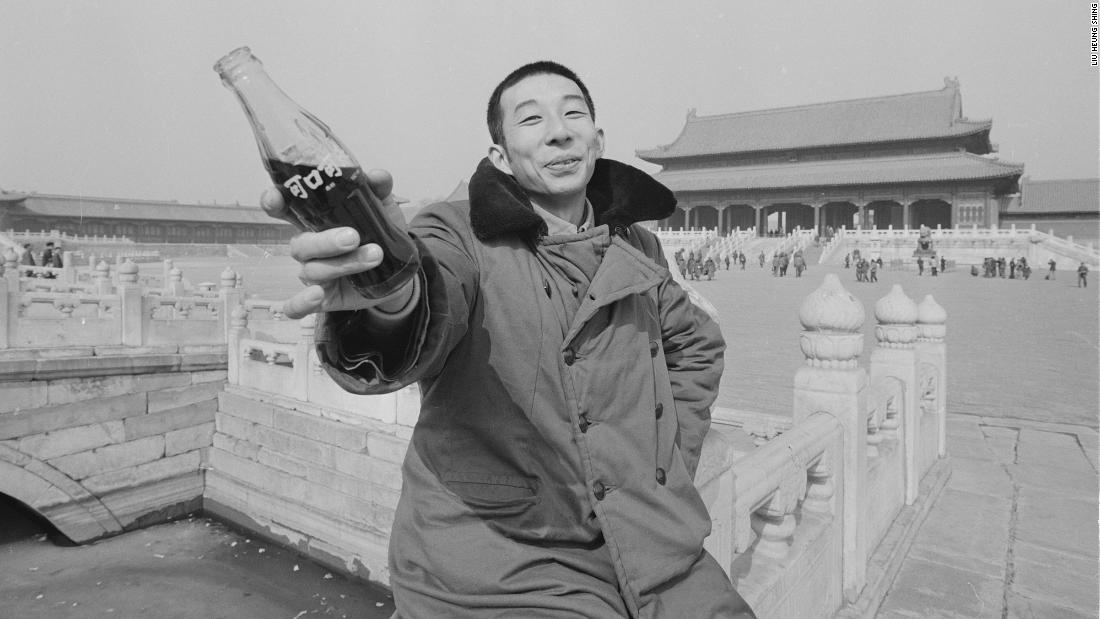 At Snap, we look at the power of a single photograph, telling stories of how modern and historic images have been created.
A young man poses smiling in Beijing's Forbidden City. It is the dead of winter, and one of his hands is buried deep in the pockets of his long coat to protect him from the cold. The other grasps the unmistakable contours of a glass Coca-Cola bottle.
Today, Coca-Cola is the most famous soft drink in the world and can be found almost anywhere. But in 1981, when Pulitzer Prize-winning photographer Liu Heung Shing snapped the image, it was only just reaching the hands of ordinary people in China.
Liu, who was in her early 20s when she started working for Time magazine in Beijing, felt the country was on the cusp of a major cultural shift after Mao Zedong's death in 1976.
"The changes (at first) were subtle and unless you lived there you wouldn't have noticed," he recalled during an interview at his home in Hong Kong.
He had previously photographed people mourning Mao along the banks of the Pearl River in Guangzhou. It was here that he was struck by how differently people behaved compared to what he had seen in China in the late 1950s, where he grew up during the disastrous Great Leap Forward campaign, a series of failed industrialization policies. , before returning to Hong Kong. when I was little.
Under Mao, the country suffered from widespread famine and poverty, and the tumultuous years of the Cultural Revolution. But after the Chinese leader's death, Liu said, "suddenly people's steps seemed a little lighter, their shoulders slumped and their faces looked more relaxed."
It would prove to be a relatively liberal period in Chinese history, politically, economically, and in terms of daily life, which Liu captured in candid shots. A photo from the time showed a plastic surgeon and his client after a cosmetic procedure. Another showed people gathered at a "Democracy Wall" in Beijing, where they wrote now unthinkable criticisms of the government.
One of the most iconic images of Liu was captured on his way to the Time Office after he had the strange feeling that "something was missing." She turned his car around, and sure enough, a large portrait of Mao that he had once hung prominently on a building had recently been toppled. She quickly snapped pictures of workers gathered around the late president's rendering, with some of his scaffolding visible in the frame.
This was China "coming out of Mao's shadow," he said.
'You know more or less'
In December 1978, Coca-Cola became the first foreign company allowed to enter the mainland Chinese market since the communist revolution. That same month, Beijing and Washington announced the normalization of Sino-US relations, and Deng Xiaoping launched China's transformative economic reforms with his "Open Door" policy. (Coca-Cola was first introduced to China in the 1920s, but was forced to leave in 1949, along with other foreign companies, by a government that viewed it as bourgeois.)
Liu had photographed the opening of a joint venture bottling plant in Beijing, capturing Coca-Cola Chairman Roberto Goizueta and Chinese trade officials drinking Coke and holding bottles aloft to shouts of "ganbei" (applause). He then thought to himself, "Now where do I find a (normal) Chinese person enjoying this (drink)?"
He made his way to the Forbidden City, with its large flow of tourists, and soon found a man named Zhang Wei buying a Coca-Cola at a small stall.
"I remember he made a comment when he drank this syrupy Coke: 'It tastes so-so,'" said Liu, who ended up taking a few photos with one of the imperial palace's picturesque pavilions in the background.
The response to Coke itself may have been disappointing, but the snap perfectly captured the curiosity and openness many Chinese were feeling at the time.
"As a photographer, of course I realized the importance. That this man, dressed in a ubiquitous PLA (People's Liberation Army) coat, was one of the first people to try it," he said, adding: "But I didn't I made". I don't realize that he would become part of the Chinese collective memory."
The image would be widely published and displayed in the following years, and he later befriended Zhang. In 1983, he appeared in Liu's photography book "China after Mao," a collection of images taken between 1976 and 1982. More recently, he included it in his book "Liu Heung Shing: A Life in a Sea of ​​Red." .
The photographer would go on to document other profound periods and events in the country's modern history, including the 1989 Tiananmen Square crackdown. And like those photographs of young student activists calling for democracy, Liu's Coca-Cola photograph became feel part of another era.
With its apparent embrace of the new and the foreign, ideas encapsulated in the most American drink, the image is in stark contrast to China today, where relations with the US are at an all time low. Xi Jinping's nationalist agenda has generated increasingly xenophobic attitudes towards the West.
"I realized that the story I made in the last quarter of the 20th century (would) still have relevance in the 21st century," Liu said.
"Especially with the history of China, I never doubt that these photographs are in the collective memory of the Chinese people.
"Although this memory continues to be reissued… the good thing about a photograph is that it cannot be reissued. It becomes an image burned into people's minds."
Top image: A 1981 photograph of a man with a Coca-Cola bottle in Beijing's Forbidden City, taken by Liu Heung Shing.