WI Governor Tony Evers Proposes Tax Cuts for Middle Class, 20% of Sales Tax Revenue to Help Fund Local Communities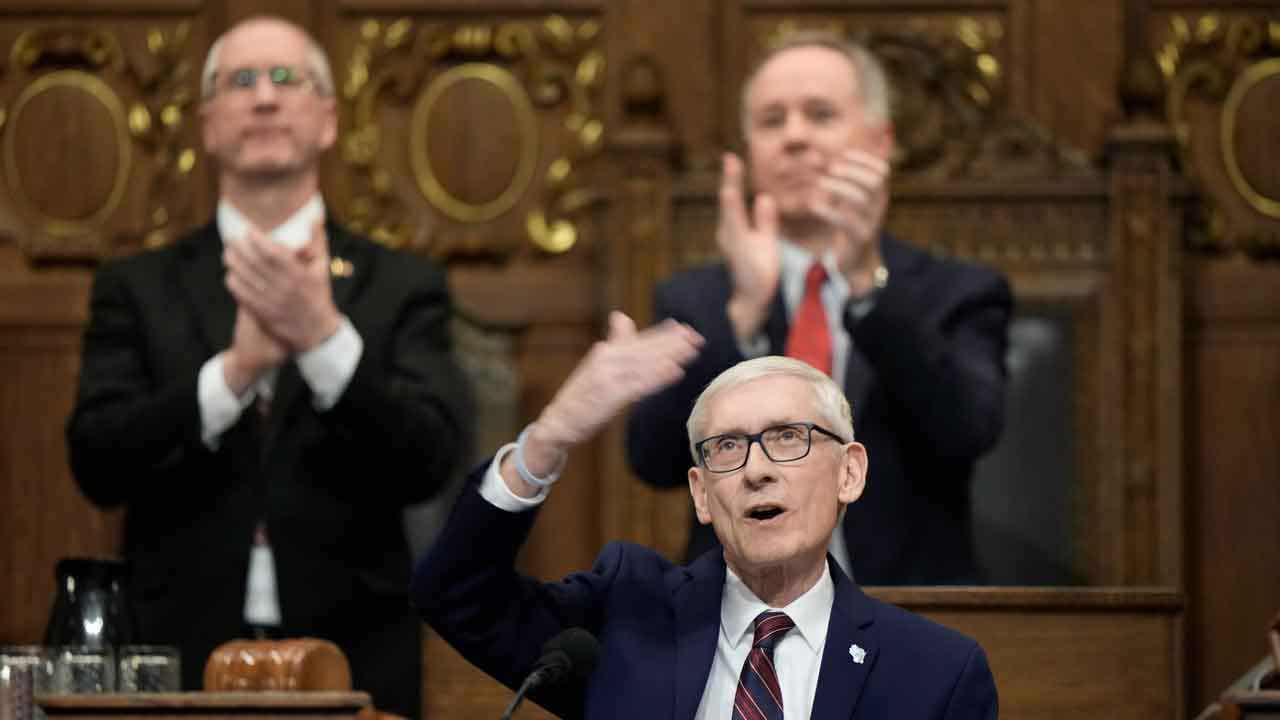 Democratic Gov. Tony Evers announced Tuesday that he wants to work with Republicans to divert up to 20% of state sales tax revenue to help fund local communities, including police and emergency services, while also He promised to cut taxes for the middle class and fight an effort by the Republican Party to impose a flat income tax rate.
Evers, in his fifth State of the State address and the first of his second term, vowed to engage with Republicans who control the Wisconsin Legislature to increase funding for schools and local governments. All of the spending proposals announced by Evers, which totaled more than $1 billion, will compete for a state budget surplus that is projected to be close to $7 billion.
Republicans dismissed much of what Evers proposed as too expensive.
"All of Governor Evers' ideas will probably be thrown out like we always do, and we'll start over," said Assembly Republican Speaker Robin Vos. "If he has creative ideas, he should probably reach out to us and talk to us about it."
The Legislature will spend the next five months reviewing Evers' proposals before passing its own version of the state budget. Evers publishes his full spending plan in three weeks, but highlighted priority areas in his State of the State address to a joint meeting of the Senate and Assembly.
"Let's find common ground," Evers said in announcing his willingness to support diversion of sales tax revenue for counties, cities, towns and villages. It was the first time Evers has publicly endorsed an idea that Republican legislative leaders have been talking publicly about for weeks.
WI GOVERNMENT TONY EVERS HAS NOT RULED OUT USING STATE FUNDS TO BUILD TRAIN BETWEEN MILWAUKEE AND MADISON
Evers said changing the way local governments are funded by tying so-called revenue sharing with sales tax revenue will ensure that payments rise after decades of little growth or cuts. Evers said his plan would direct more than $500 million a year to local governments.
Evers previously requested a 4% increase in revenue share funding for each of the next two years, totaling about $91 million. Evers appeared to support a plan that Republican legislative leaders have discussed that would use 1 percentage point, or 20%, of the 5% state sales tax for revenue sharing.
"The bottom line for me has always been making sure our communities have the resources they need to meet basic and unique needs alike," Evers said. "But there are many different ways that we can find a compromise to achieve that goal, and together we will."
Evers has met privately with Vos and Senate Majority Leader Devin LeMahieu since their re-election victory in November, a remarkable thaw from their icy relationship since their first term when they rarely spoke. Both sides have shown some signs of being willing to compromise on some issues, such as local government funding.
They have been further apart on others, like abortion and tax cuts.
LeMahieu said Evers' revenue-sharing plan was similar to his.
"It's good to see that you can support a plan that we presented to you," LeMahieu said.
THE DEMOCRATIC GOVERNOR OF WISCONSIN. TONY EVERS DEFEASES REPUBLICAN CHALLENGER FOR SECOND TERM
Evers, in his speech, reiterated his support for tax cuts targeting the middle class. Republicans back a single tax plan that would lower rates for the state's wealthiest taxpayers to a four-year flat rate of 3.25%. Evers called that plan "reckless."
Evers also declared 2023 the "Year of Mental Health" and proposed spending about $500 million to expand access to mental and behavioral health services across the state, including efforts to reduce suicides and other issues related to Mental health.
"Almost all of the speech was about spending increases for one government program or another," Vos said. He added that anything that increases the size of government is probably dead by the time it reaches the Legislature.
Evers also called for spending $100 million to combat pollution from the so-called forever chemicals known as PFAS. He said the money will be used to increase PFAS testing, sampling and monitoring across the state. Pollutants are man-made chemicals that are not easily broken down in nature and have been linked to a wide range of diseases.
CLICK HERE TO GET THE FOX NEWS APP
Evers also announced a variety of grant programs and other initiatives targeting small businesses; workforce development, with a focus on healthcare workers; child care tax credits; and clean energy.
Vos accused Evers of "just throwing money" at the problems.
"We can't just do everything the governor wanted, which is going to ruin the bank," Vos said.